Echo Exclusive-How an Ohio Flea Market Vendor, Assan Faal, Tricks Gambia's President with Bogus Degrees and Claims of Wall-Street Credentials
by editor | April 22, 2018 5:38 pm
By Ebrima G. Sankareh, Editor-in-Chief
Special Report: Ex-GEIPA Chief, Assan Faal Uses Bogus Degrees and Has Criminal Record in US
After disgraced former Secretary General, Njogou Lamin Bah, a skilled cook  successfully walked out of an Atlanta restaurant claiming a catalogue of imaginary degrees among them a Ph.D. from a discredited university leading to his meteoric rise under Yaya Jammeh's utterly criminal regime, another character has surfaced under Adama Barrow's so-called "New Gambia" claiming superfluous academic credentials from prestigious American universities all of which, have flatly denied any connections whatsoever. The new con artist in Banjul is no less than the dubious character of Assan Faal whose choreographed looks, intellectual pretentious and clownish bravado were enough assurances to net him a high-profile job under Gambia's new president, Adama Barrow.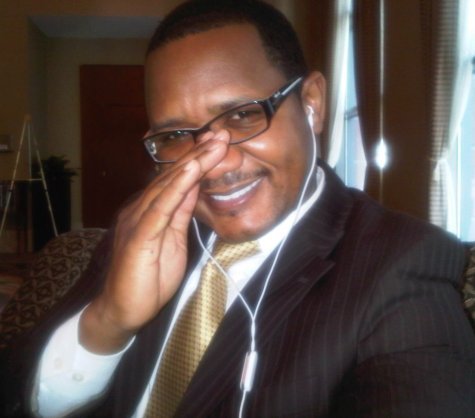 Assan Faal fraudulently chases the limelight in The Gambia
Curiously, before he debuts into The Gambia's limelight of false stardom, The Gambia Echo can confirm that Faal was a famous flea market (Lumo) vendor in the US State of Ohio selling CDs, tee-shirts and sunglasses among others. However, no sooner had Faal taken up appointment as GEIPA CEO almost a year ago, than The Gambia Echo in a barrage of unprecedented emails and phone calls, was alerted to a potential scammer with dubious credentials taking advantage of his proximity to those within the corridors of political power.
The Gambia Echo immediately mounted an investigation into Faal's alleged impropriety and as our investigations were in high gear, Faal, like a protagonist out of Greek tragedy, ended up hanging himself, thanks to his bombasts and intellectual pretentious that he alone, probably possesses the intellectual financial wherewithal to salvage The Gambia from the catastrophe of Yaya Jammeh's legacy.
Crucially, even after he was sacked by President Barrow, the quack or 'intellectual wannabe' was seen standing before a cross section of staff loyalists insisting that unless he was reinstated, they wouldn't return to work. Oh boy, did Faal's supporters know that they were effectively legitimizing a fellow with fake academic credentials, probably less qualified than most of them to hold that coveted office? In sum, a mere storm in a tea cup most likely orchestrated by Faal himself.
However, beneath the shocking story that Assan Faal never attended nor received degrees from all the universities he claims to have attended, is the more bizarre tale about his past in the United States; a dark story that speaks to Faal's utterly dubious character that surprisingly eludes Adama Barrow's 'New Gambia' with all the promises of transparency and accountability. How could a man with no known University credentials have maneuvered his way through the highest office remains the million-dollar question that Barrow's government must answer.
In fact, as we went to press, The Echo has received several complaints against 6 high profile appointments with alleged fraudulent qualifications. Among them is a lady with no known college record in the United States claiming a degree from a Washington DC area University. There is also the case of a Department Head who claims a Master's degree from the UK.
For now, though, we return to the subject of today's story, Assan Faal, who lost his job a few months ago following allegations that he ran afoul of President Barrow in a secretly taped conversation with a lady that immediately went viral on social media.
Significantly, had Faal shut his big mouth and minded his business like most public servants, he too, could have lasted a bit longer just as the numerous fraudsters currently serving the Barrow government with doctored resumes claiming superfluous qualifications from imaginary universities.
 Special Report by Dr. Ousman Gajigo
In this Echo exclusive, we thank our colleague, Gambian economist, Dr. Ousman Gajigo, who received his PhD in Developmental Economics from the University of Wisconsin for his exhaustive investigation into Assan Faal's academic and public records in the United States and the damning revelations. In all fairness to Faal, during the exhaustive investigation, Dr. Gajigo personally met Faal and interviewed him and after all his findings, he informed Faal that the story was coming out in the press and here comes the naked truth about GEIPA's former CEO Assan Faal.
The Urgent Need for Proper Procedures for Hiring Senior Officials: The Case of Assan Faal, Former CEO of GIEPA
 By Dr. Ousman Gajigo
 In today's Gambia, far too many appointments, particularly at senior government levels, are being made in ad-hoc ways through personal connections rather than through objective assessment of candidates' qualifications. This unfortunate practice has consequences for this government delivering on the enormous expectations of Gambians.
The Gambia has a severe lack of capacity at many levels of government. When ad-hoc and improper selection is added to that mix, government inefficiency is greatly magnified. What is needed is established procedures, including strict adherence to them, for vetting and appointing candidates for key government positions. There are many ways quality assurance and proper vetting can happen. This could involve parliamentary hearings for prominent positions where nominated candidates would be subject to public questionings by national assembly members. This would complement rather than substitute other vetting processes that would be undertaken by the executive branch. While no system is guaranteed to be perfect, this would reduce the likelihood of individuals obviously unqualified people being appointed to important positions.
This issue received renewed focus with the recent firing of Mr. Assan Faal, the former Chief Executive Officer (CEO) of the Gambia Investment and Export Promotion Agency (GIEPA). The real reason for his firing was never publicized by the government but his removal coincided with the release of a taped conversation where he made many claims. 
While a lot of focus has been made on the contents of the audio recording, the real scandal is how someone of Mr. Assan Faal's background came to occupy such a prominent position in the first place. It turns out that Mr. Faal does not have the educational qualifications he professed to have and has a highly checkered past professionally.
The role of the GIEPA is important for our economy, just like all other apex investment promotion agencies, especially in a period when things are looking up for the country in terms of foreign direct investments (FDI). In the last six years of the Jammeh regime, FDI had been on a downward trend due to obvious unfavorable investment climate created by that regime.
GIEPA, especially their head, is the first line of contact for investors who are interested in making investments in the country. Given the advocacy role as part of their wide range of mandates, the institution and its head are effectively the face of the country for foreign investors. This responsibility requires competent professionals who can properly assess investments, facilitate the administrative processes and put forward the best face of the country. In the case of investments that may require government participations and liabilities, this institution also has a vital role to play in helping to provide objective, dispassionate and sound analyses of all the risks and opportunities involved for the government. 
Obviously, these important functions require individuals with competence and relevant experience. Equally important, it requires individuals with impeccable character and moral uprightness. After all, many of these investors that would be coming to our shores are rich and not all are willing to play by the rules. The likelihood is high that some may be willing to bend the rules and would have no compunction about paying individuals to make sure that their project receives some favorable treatment.
This brings me to the point about how Mr. Assan Faal came to be appointed as the CEO of GIEPA. From an exhaustive but brief research, it turns out that most of the qualifications that Mr. Faal claimed to possess are based on falsehoods. Let's start with his education. In various publications, Mr. Faal claimed to have a Master of Business Administration (MBA) degree from the University of Michigan at Ann Arbor in the United States. I have made direct inquiries with that university and they have no record of him. When I personally asked Mr. Faal about his education, he gave me a different story and indicated that he got his MBA from Michigan State University in East Lansing and his bachelor's degree at University of Michigan at Ann Arbor. It turns out this revised story is also a lie. Michigan State University also has no record of him having a degree of MBA, and the University of Michigan has no record of him in their undergraduate program. 
In various settings, Mr. Faal also suggested or gave the impression that he got a doctorate degree. For instance, in one of the GIEPA forums on GRTS, Mr. Faal was introduced as Dr. Faal by the moderator. Mr. Faal didn't correct him. When I directly asked if he had a doctorate, he claimed that he was enrolled in the Ph.D. program at the University of Chicago but didn't complete the degree. There is no record of him in Ph.D. programs at the University of Chicago. 
In other words, Mr. Faal has been spinning tales about his educational background to the government that are only figments of his imagination. It is noteworthy that Mr. Faal deleted his LinkedIn profile as soon as questions about his educational record started coming up.
Equally damning has been Mr. Faal's professional record. A little background check on Mr. Assan Faal's past would have raised lots of red flags and revealed a lot of questionable conducts in his past. Mr. Faal is currently barred permanently (effective June 2016) as a broker or investment adviser in the United States by that country's Financial Industry Regulatory Authority (FINRA), which regulates investment brokers. This is due to a misappropriation of funds by him. In one case, Mr. Faal misappropriated $33,000 in 2016 and had to make a settlement case. Contrary to the fabrications Mr. Faal has been spreading, this punitive measure was against a conduct he perpetrated individually, rather than a sanction on his former employer or colleagues. There are lots of other dubious and unethical activities that Mr. Faal engaged in upon leaving the US and returning to The Gambia. Details on these activities, including his banning in trading and investment advice, are available on easily accessible public platforms.
Being a smooth talker and an expert manipulator, Mr. Faal endlessly engaged in all sorts of spinning to explain away questions raised about his background. Fortunately, facts can only be hidden for so long. It only takes a little bit of digging to find out the truth about his background. It is a pity that government officials didn't take the little effort needed to dig a bit into his background before letting him become the head of GIEPA.
It is important to point out that the real crime is not that Assan Faal has no degree from a prestigious school. Rather, by lying about his background, Mr. Faal not only creates a problem by occupying a position he shouldn't have, but also exposes himself to blackmail, with serious consequences for the institution he headed and the country at large. With such embarrassing secrets to hide, there is no telling what inappropriate or unlawful activities he potentially could have been forced to engage in, had the wrong individuals or groups got hold of his real background and threaten to expose them unless he does their bidding.
This raises the question of how an individual with such a questionable background came to be appointed to such an important and high-profile position at GIEPA. This could only happen due to the lack of following proper procedures that involves vetting potential candidates for public office. GIEPA is an autonomous agency under the Ministry of Trade, Industry, Regional Integration and Employment (MoTIRIE). A proper appointment to the position of CEO of GIEPA should have been handled through that ministry rather than anywhere else. Unfortunately, this was not what apparently transpired in this case. As a result, a smooth-talking individual with a dubious character somehow managed to ascend to that important position and remained there for almost a year.
The systemic failure that allowed the appointment of Mr. Faal is the fault of several groups of people. First among them are the close advisors of the President who pushed for his appointment, according to Mr. Faal himself. In recommending his hiring, these advisors failed to do their due diligence and failed the President by giving him bad advice. 
The second set of officials who failed in their responsibility is the ministry overseeing GIEPA (Ministry of Trade and Industry). This ministry should have insisted that the responsibility for appointing the CEO of GIEPA remains theirs, rather than meekly following an improper order just because it came from the top. 
Finally, the board of GIEPA, which has the responsibility of providing direct oversight on governance, should have sounded the alarm. Among the members of the board are top civil servants, including several key ministries such as Industry and Trade and Ministry of Finance.  Few things could be more important than ensuring the integrity of the top management of GIEPA.
Mr. Faal was not appointed because he had a unique set of skills and education that are rare among Gambians – it is simply because of his connections to certain individuals with influence. Far too many appointments are being based on personal connections rather than objective evaluation of candidates on merit. It will be difficult to have the kind of development we desire in this country if such practices are not minimized. It is high time we implement needed reforms in this area.
Source URL: http://thegambiaecho.com/echo-exclusive-how-an-ohio-flea-market-vendor-assan-faal-tricks-gambias-president-with-bogus-degrees-and-claims-of-wall-street-credentials/
---